2021 gift guide: best gifts for hunters
ISOtunes Sport Team / November 22, 2021
It's nearly "the most wonderful time of the year." And with a little bit of proper planning, you can make the holiday season all the more wonderful for the hunter on your holiday shopping list. There's no shortage of outdoor gift ideas for the man or woman in your life that would rather be in a blind than anywhere else. So what do you get for the person that counts down the hours until hunting season starts year in and year out? We've compiled a list of 10 gift ideas to make their holiday season all the more merry and bright. Just make sure that you act now to avoid potential supply chain delays so your item arrives on time and can be nestled either under the tree or placed in their stocking.
Here's a look at some of our favorite gifts for the hunter in your life this holiday season:

Here are our favorite gifts for hunters if...
they like hunting comfortably
When your hunter is out of the blind for the day and back at camp, they don't want to be uncomfortable. It's a time to kick back with their hunting buddies and relax. And that's exactly where a good camping chair, such as the Sportneer Height Adjustable Camping Chair, enters the picture. It's light and compact, yet adjustable and heavy duty. Noting all of these features, it's easy to get from Point A to Point B - and it's even more comfortable to relax in. There's even a built-in cup holder for your hunter's beverage of choice.
They can't hear what they need to while on the hunt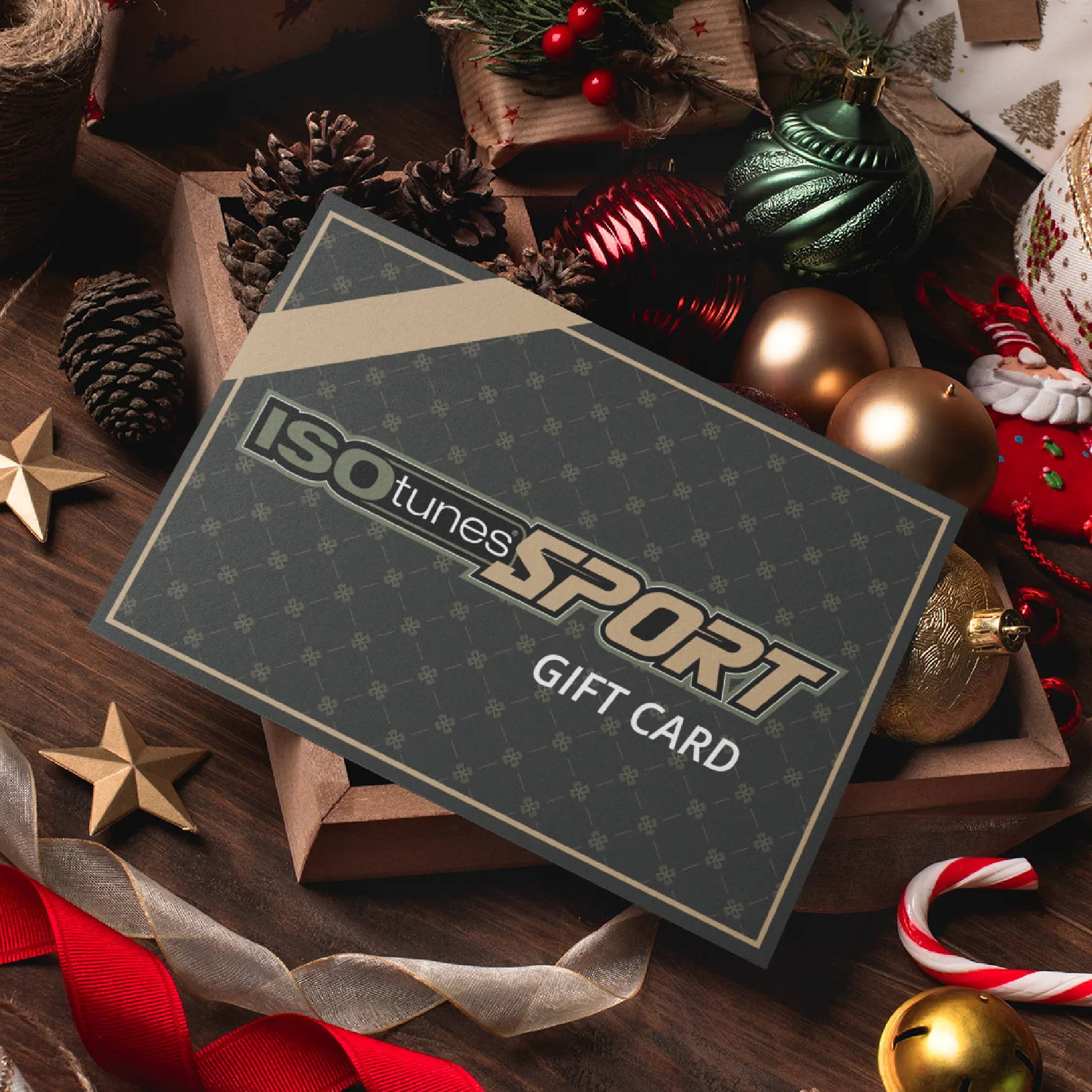 Any time you're firing guns or shooting arrows at wild game, there's certainly a certain level of safety that you should be abiding by. But when most people think of a hunter's safety, they're only focusing on handling weapons properly. There are other often-overlooked aspects of hunting safety as well, and some of these more overlooked areas could make for great gift ideas for him or her. For instance, hearing protection is always important when firing guns. In fact, it's not uncommon for a firearm to emit a noise greater than 140 decibels - and repeated exposure to this high level of noise can lead to permanent hearing damage. That's where ISOtunes Sport can come in handy. In terms of gifts for gun owners, a brand new pair of electronic hearing protection is sure to be on their list. If you aren't sure which pair they'd prefer - let them decide and purchase a gift card. Gift cards are available in $25 increments, starting at $25. Any ISOtunes Sport purchase over $99 includes free shipping.

They're Always Thinking About Hunting
Are you shopping for the type of hunter that always has hunting on the mind - even when it's the offseason? Well then, how about tucking something fun inside their stocking this holiday season? Novelty socks are a great small gift choice, and these days they make these socks for just about everyone - hunters included. Just think about the chuckle the hunter on your holiday shopping list will get when they open something fun and practical such as this.

They Need to Keep Food and Drinks Cold on Their Hunting Trips
When it comes to premiere cooler functionality and a ruggedness that's able to stand up to even the most rigorous of hunting environments, the only brand you need to know is Yeti. From hard coolers that can stand up to even the most harsh environments to soft coolers that are easier to carry to even foldable lunch bags, you'll be able to find a cooler that will suit you on your next camping trip. Yeti even makes backpack coolers that can be easily carried and transported from the blind to your cabin. Plus, they offer a variety of colors. Yeti is offering free ground shipping on orders of $19.99 and up.
They Need New Hunting Clothes
The hunter on your shopping list shouldn't have to just make do with any clothing for their next trip. And while a brand like Carhartt might be most synonymous with construction and skilled trades workers, hunters can certainly benefit from their wide range of apparel as well. There are the likes of sweatshirts, jackets, fleece, boots and more. For hunters, we particularly like Carhartt's cold weather socks, thermals and base layer clothing, and its Rain Gear collection for those cool November mornings in the blind. If you're struggling for holiday gift ideas for the hunter on your list, know that a gift card or some apparel from Carhartt won't disappoint.
They Like to Snack While They Hunt
One of the great things about hunting is that it's also a great bonding experience. And part of bonding with friends or family out in the blind is kicking back and snacking on your favorite foods. When it comes to hunting, there's perhaps no food more synonymous with the sport than beef jerky. Aside from being delicious, beef jerky also has numerous nutritional benefits as well. For instance, it's a great source of protein and also high in many vitamins and minerals. It also has a long shelf life, which makes it the perfect item to bring on your next hunting trip. While a few bags of beef jerky can make for a great stocking stuffer, so too can a subscription service to a vendor such as Jerkygent. By using Jerkygent, your hunter can set their preferences and have various types of jerky delivered to their door monthly. Jerkygent is also running holiday specials throughout the season on various items.
They Need New Hunting Boots
Comfort is important when you're out hunting - and it all starts with what's on your feet. Ideally, hunters want boots that are more than just comfortable, but lightweight, insulated, and waterproof as well. So if you've heard the hunter on your holiday shopping list bemoaning the quality of their hunting boots, a new pair could make for the perfect gift to tuck under the tree this year. We personally like KUIU, specifically its Scarpa brand of boots.
They Like to Cook What They Kill
Some hunters like to hunt for sport and for the camaraderie of spending time with friends and family. Others do it as a means of putting food on the table. Some do both. If the hunter on your holiday shopping list is among those who like to eat what they hunt, a new smoker could make for the perfect gift this holiday season. Whether it's venison, wild boar, turkey, duck or something else that they like to feast on, smokers are among the most popular 2021 gift ideas for hunters, and Masterbuilt has a variety of model options for you to choose from. With features such as Bluetooth smart control, built-in meat probe thermometers and smokers that run on electric power, charcoal and propane, you can ensure the hunter on your list is able to dine on what he hunts like never before.
They Hunt in Cold Temperatures
Chances are the hunter on your shopping list isn't going to always be hunting in weather that's 70 and sunny. Hunting weather tends to be cool and damp, so it's important to keep warm in order to stay both comfortable and to avoid serious medical situations like that of hypothermia. A heated vest can help keep anyone's core body temperature stable, and Ororo offers heated vests for both men and women. These vests work for up to 10 hours via battery and can be recharged with a USB port. What's more is these vests are also easy to care for. They're machine washable, breathable, antibacterial and come with a 3-year warranty.
An Emergency Survival Kit
We'll round things out with another hunting essential that makes for a great gift - an emergency survival kit. Good hunters are also safe hunters, and safe hunting includes being prepared in the event of an emergency. A good hunting survival kit should include the likes of a knife, flashlight, first aid kit, non-perishable food, water, a compass, flint, emergency blanket, whistle, paracord, screwdriver, eating utensils and fire tinder, among other items. You can shop for one on your own or stuff a gift card to a popular big box hunting store, like Cabela's or Field and Stream, in your hunter's stocking this year and let them make their own selection.
ISOtunes Sport Team / December 29, 2021